There's no discussion that, in the dental care field, dental hygienist are the professionals that advocates the most to teach patients how to care for their teeth.
This very patient-oriented specialization of the dental care industry is a crucial part of any dentist team, and dental hygienist schools have to give these professionals the necessary skills to perform their dental care and oral disease prevention duties to the best of their abilities.
Cost Averages
Associate's Degree Average: $4,600 (In-State)
Associate's Degree Average: $22,500 (Out-of-State)
Bachelor's Degree: $20,000-$98,000+
What Is A Dental Hygienist?
Dental hygienists are licensed professionals in the dental care field that provide preventive oral care, which means they are in charge of working with patients to achieve good oral health and prevent oral diseases under a dentist's supervision.
Dental hygienists work in dental offices, and they are an essential part of the dental care team; they perform not only dental care, but also check patients for oral diseases, clean teeth, teach patients how they can improve oral health, and be involved in orthodontic procedures such as braces.
According to the U.S. Bureau of Labor Statics, for dental hygienists, the median annual wage was $77,090 in May 2020; the lowest salaries were around $54,200, while the highest was around $104,420.
What Are The Responsibilities/Duties Of A Dental Hygienist?
According to BetterTeam.com, the major duties and responsibilities of a dental hygienist include:
Using dental instruments to clean accretions, calcareous deposits, and stains from teeth and beneath margins of gums.
Looking for indications of oral cancer by feeling lymph nodes under patient chins for signs of tenderness or swelling.
Noting and reviewing patient medical history.
Using probes to examine and locate periodontal recessed gums and other signs of gum disease.
Recording dental decay and disease for diagnosis and treatment by dentists.
Maintaining dental equipment and x-ray machine.
Feeling and visually examining gums for signs of disease, sores, and other dental health issues.
Exposing and developing x-ray films.
Sharpening and sterilizing dental instruments.
Promoting preventative dental care to improve patient oral health care.
Applying fluorides and other dental decay prevention agents.
Working with dentists and dental assistants.
Maintaining a dental hygiene program for patients.
What Are The Costs Of Dental Hygienist Programs?
The cost of a dental hygienist program can vary depending on the length of the program and level of specialization, the type of school if you are an in-state resident or out-state student, and the state the school is located.
Students that want to specialize in preventive dental care or dental hygienist need to get a two-year associate's or a four-year bachelor's degree.
According to the American Dental Hygienists' Association, the average estimated total cost of tuition and fees for an associate degree costs about $4,600 in-state in a community college and $22,500 for out-state students.
Programs with longer durations and more specialize cost more; a bachelor's degree in dental hygienist costs $20,000 to $36,000 or more in-state, while the four-year program for out-of-state students costs around $25,000 to $98,000 or more.
A master's degree in dental hygiene with a duration of one to two years can cost around $23,000 to $80,000.
Extra Expenses
Books are not included in the tuition costs, but the additional cost for them will depend on the selected program and can go anywhere from $100 to $800.
Instruments, uniforms, and equipment for the clinical portion of the education can cost around $1,400 for the first year and $1,700 for the second year choosing an associate's program.
After graduating from each program, the student must pass the Clinical Board Exam to get licensed as a dental hygienist, costing $950.
The following example shows the approximate costs of tuition and extra expenses for a full-time dental hygienist program from the University of the Pacific: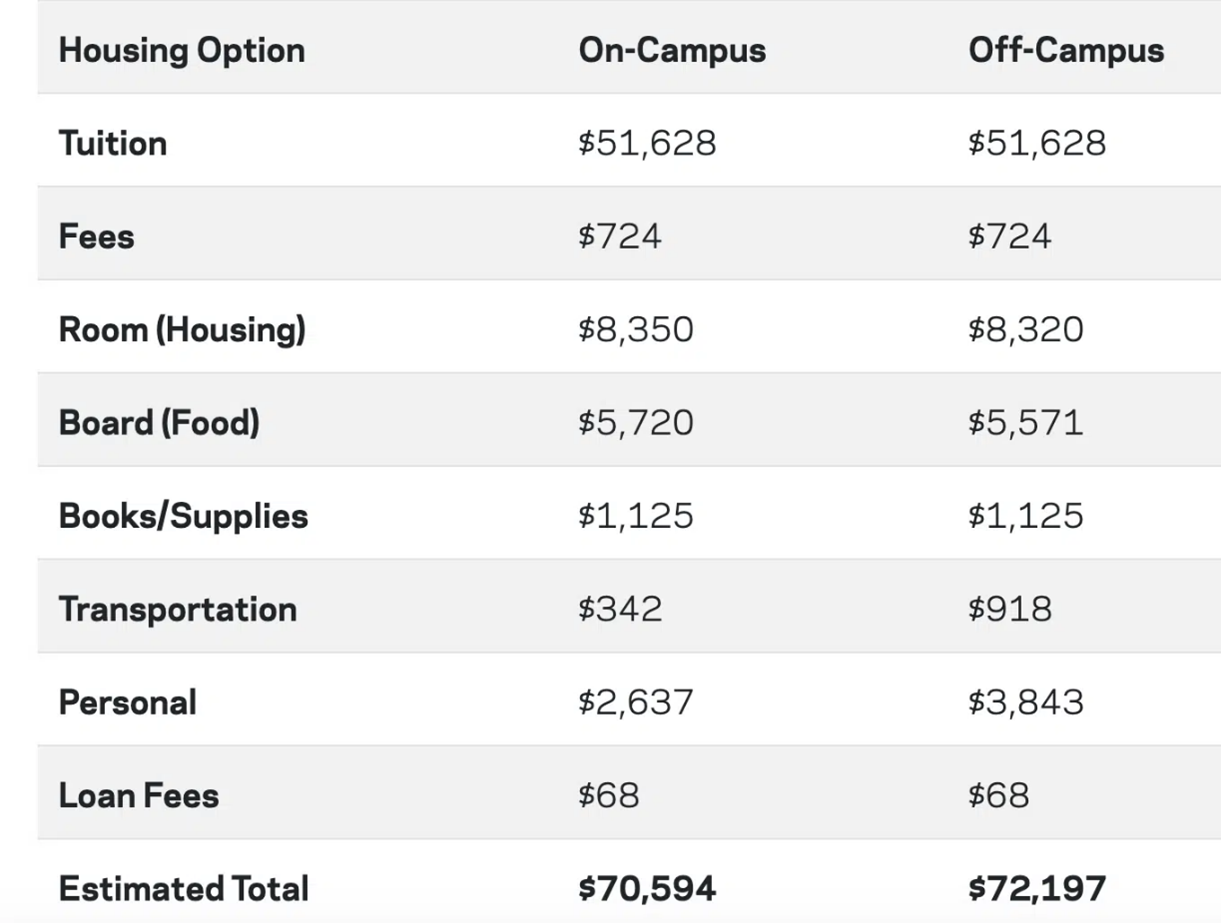 What Are The Best Schools That Offer Dental Hygienist Programs?
Dental hygienists must be eligible to sit the Clinical Board Exam to get licensed after completing a dental hygienist program, but the program must be accredited by the Commission Of Dental Accreditation (CODA); this website provides a list of CODA-accredited dental hygiene education programs.
The best dental hygienist schools and programs accredited by the Commission on Dental Accreditation (CODA) under $35,000 are:
| | | | | |
| --- | --- | --- | --- | --- |
| School | Location | School Type | Degree | Price |
| Carrington College-Sacramento | Sacramento, CA | Private | Associate degree | $33,132 |
| Carrington College-San Jose | San Jose, CA | Private | Associate degree | $26,201 |
| Flint Hills Technical College | Emporia, KS | Public | Associate Degree | $16,703 |
| Fortis College-Landover | Landover, MD | Private | Associate Degree | $21,957 |
| Fortis College-Salt Lake City | Salt Lake City, UT | Private | Associate Degree | $24,238 |
| Fortis College-Smyrna | Smyrna, GA | Private | Associate Degree | $19,849 |
| Fortis Institute-Scranton | Scranton, PA | Private | Associate in Specialized Technology | $33,373 |
| Fox Valley Technical College | Appleton, WI | Public | Associate Degree | $21,263 |
| Lancaster County Career and Technology Center | Willow Street, PA | Public | Associate Degree | $7,324 |
| Pima Medical Institute-Houston | Houston, TX | Private | Associate degree | $23,289 |
| Pima Medical Institute-Seattle | Seattle, WA | Private | Associate degree | $25,476 |
| Remington College-Nashville Campus | Nashville, TN | Private | Associate degree | $19,687 |
| San Joaquin Valley College-Ontario | Ontario, CA | Private | Associate degree | $22,467 |